Google Street View Trusted Virtual Tour
What is a Google Street View Trusted Virtual Tour?
Literally Street View inside your business (only better)!
The Virtual Tour program created by Google
A collection of 360 degree interactive panoramas of your business premises joined together to create a virtual walkthrough of your business so that visitors can navigate around the inside of your business and experience your business, store, restaurant, hotel, showroom, spa or office.
The published tour can be viewed in Google Search, Google Maps & Street View, Google My Business and the new Google Street View App
The Evolution of the Google Virtual Tours Program
The program began as Google Business Photos in 2012
Google re-branded to Google Maps Business View in 2014
In 2015 re-branded again to Google Street View Trusted
The program is also sometimes known as Google Virtual Tour OR Google 360 OR Google Virtual Walkthrough OR even Google Virtual Video
Google Trusted Photographer
An independent contractor who has been trained and certified by Google to produce high quality panoramic images
Must meet strict quality requirements
Needs specialist equipment: a DSLR camera and 8mm fish-eye lens with 180 degree field of view or one of the new breed of 360 degree panoramic cameras such as the Iris, by NCTech, Samsung Gear or Ricoh Theta-S
Is trained in the use of the 360 virtual tour software that builds the virtual tour
Only a Trusted Photographer can display the Google Trusted badge
Sets the fee, the businesses pay the photographers and the photographer creates and published the virtual tour
Is not employed by Google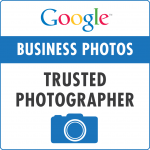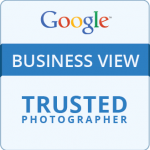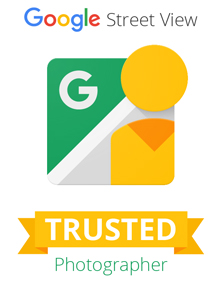 Benefits of Street View Inside your Business
Showcase your business to potential customers online
Make a great first impression
Stand out from the competition
Optimise your business presence on Google Search, Google Maps & Street View, Google My Business and the Google Street View App
Brings your business to life so that potential customers can 'try before they buy'
Easily embed on your website and Facebook page
Creates rich social media content
Exceptionally cost effective marketing tool
Invites customers into your business 24 hours a day 365 days a year
Increases visibility and customer engagement which in turn leads to potentially increased footfall
Turns online visitors into customers
Gives potential customers confidence and trust in your brand
Creates a feeling of familiarity
***Research published by Google:
Virtual tours help double interest in business listings
Those who view a listing with a virtual tour are twice as likely to be interested in booking a reservation there. And among 18-34 year-olds in particular, prospects are 130% more likely to book based on a tour.
Mobile search is growing and consumers prefer visual appealing content to a screen full of words
(Read more about consumer mobile usage)
What does it cost?
Cost will vary depending on the size of your premises and the number of panoramas required to showcase the areas of the business you would like to share with the world. You'll be pleased to know prices start at £250.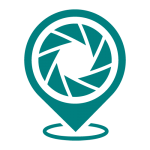 What is included in the Package?
Photoshoot of your premises by a Striking Places Google Street View | Trusted certified photographer
Creation of a full 360-degree panoramic tour
Creation of a set of 10 still photos
Uploading of your tour to Google for display on Google Search, Google Maps
Help embedding on your website and to your Facebook page
Why Choose Striking Places?
Are Google Trusted Photographers
Have earned top performer status with Google
Have been working with the Google 360 program since it started in 2012
Are experienced and have produced over 500 virtual tours
Have worked with clients all over the UK
Work with all business sectors
Will hand hold through tricky and changeable world of Google My Business
Help to Set up | Verify | Optimise | Publish your Google My Business page
Assist with website integration
Instruction for Facebook integration and social media sharing
Provide a complete full wrap-around service (Photography / Processing / After Sales)
Have an immaculate reputation
No hidden costs, no ongoing fees, no fuss

Get a Free No obligation Quote for your Google Virtual Tour