HTA Technology Conference
Striking Places Present at the HTA Technology Conference 2016
Striking Places involvement with the HTA (Horticultural Trades Association) began whilst working with Aylett Nurseries. We had lots of fun meeting Adam Wigglesworth, Julie Aylett's husband, whilst shooting a 360 virtual tour there. Among other things he boosted me up in a forklift truck cage! This was so we could take birds-eye view pictures of the vast site that is Aylett Nurseries. The work we carried out interested and impressed Adam. As it happens, he is also the president of the HTA. On a visit to their offices in Theale he showed the team what we'd created for Aylett Nurseries. As a result this got the interest of Tim Bell, New Business Executive at the HTA. He called me up and asked me to come in for a meeting.
They presented us with a fantastic opportunity. We ticked all the boxes for participating in the HTA Cost Reduction Scheme. Consequently, we became HTA partners earlier this year.
The HTA Technology Conference, the first of its kind, was already planned for the end of February in Solihull. At very short notice, we organised the team, the marketing materials and exhibition stand paraphernalia. Four members of the team loaded up in the mobile office and very early on the 24th February 2016 we headed up the M1. It was a glorious dawn and as we hit the M6 the moon was setting to our left and the sun rising to our right.

Vanessa, Emily, Michael and Jo had fun on the stand showing all the delegates how exciting Google Cardboard is, sharing sweets and handing out free key-rings.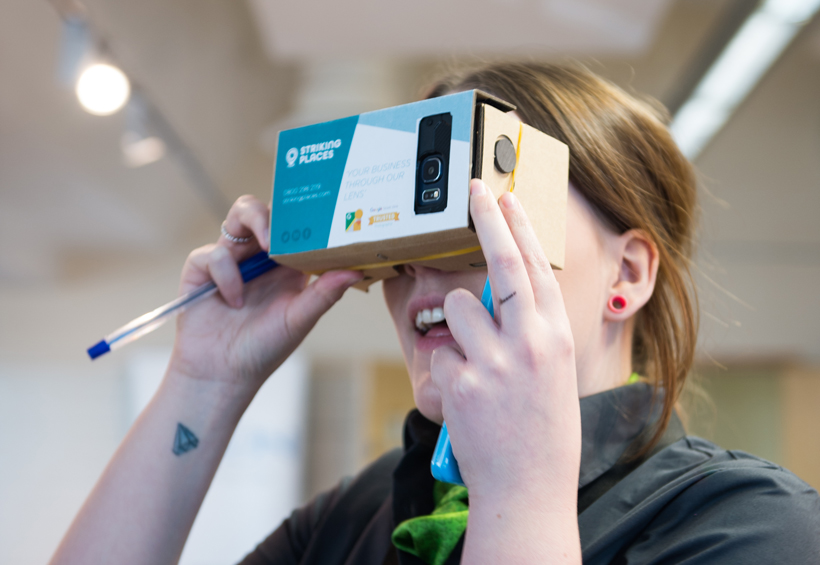 There were interesting speakers throughout the day. All talked about their aspects of technology with regards to taking the garden industry forward. Subjects covered included theft reduction, sales benchmarking and especially relevant, consumer engagement . I took the stage for the graveyard slot enthusing about the features and benefits of Google virtual tours.  I showed the audience the tools of our trade and how we create a full 360 degree panorama.
It was a long day and a long drive home but the skies were clear and the sunset was rosy in our path, just as stunning as the sunrise on our outward journey. We set off in the dark and arrived home in the dark but had a great team building experience. Business cards filled our pockets from which we would follow up and continue conversations started that day.

Because we had such a lovely time, we're really looking forward to exhibiting at the HTA National Plant Show at Stoneleigh Park in June.