Jennie & James' Wedding | Event Photography
Striking Places shoot Jennie & James' Wedding
In the very hot summer of 2015 Jo Hailey, of Google Award Winning Photographers Striking Places, was contacted by Mary Deuchar. Mary was one of Jo's colleagues at the University of Hertfordshire and also taught on her masters course. Her granddaughter, Jennie Wakelin, (nee Fletcher) was getting married in the autumn. Would Striking Places be the official photographers?
On a gorgeous sunny day in August Jo made her way to meet up with Jennie and her fiancee James Wakelin. In the garden of The Old Orchard pub in Harefield, with the backdrop of this beautiful view, they all discussed what Jennie & James wanted for their big day.
Jennie takes up the story.
"We met up with with Jo and she seemed to immediately understand the kind of photographs we wanted. I think it's called 'reportage'. Apart from a couple of formal shots to make sure we got everyone in, we wanted relaxed photographs of people enjoying the day and being themselves. We had looked at the Striking Places website and, well, the photographs really are striking!" she laughs, "I loved the ones of the Shambala Festival. I wanted our day to be a bit like that, a celebration, people enjoying themselves. It was a relief that Jo very quickly understood what we wanted".
To ensure as much for the day as possible was captured, Jo invited photographer Carol Moir to join her on the shoot.  Although Jo Hailey and Carol Moir have known each other for years, and have often been photographers at the same events, this was the first time Carol had worked with Striking Places.  Having two shooters gives you the confidence you're going to do the best job you can and provides an interesting variety of shots.
Carol and Jo did a recce the week before, to make sure they had a good idea of where they would be shooting and assess any potential obstacles. One of the challenges that presented itself was that it was slap bang in the middle of the gravestones, so some careful angles would be necessary.
Jennie & James had decided to make their wedding more interactive and interesting for guests by holding a cake competition. They didn't expect such a fantastic response. There were amazing cakes of all shapes and sizes from so many guests. The winning cake was the one below, baked by Jennie's grandmother, Mary Deuchar.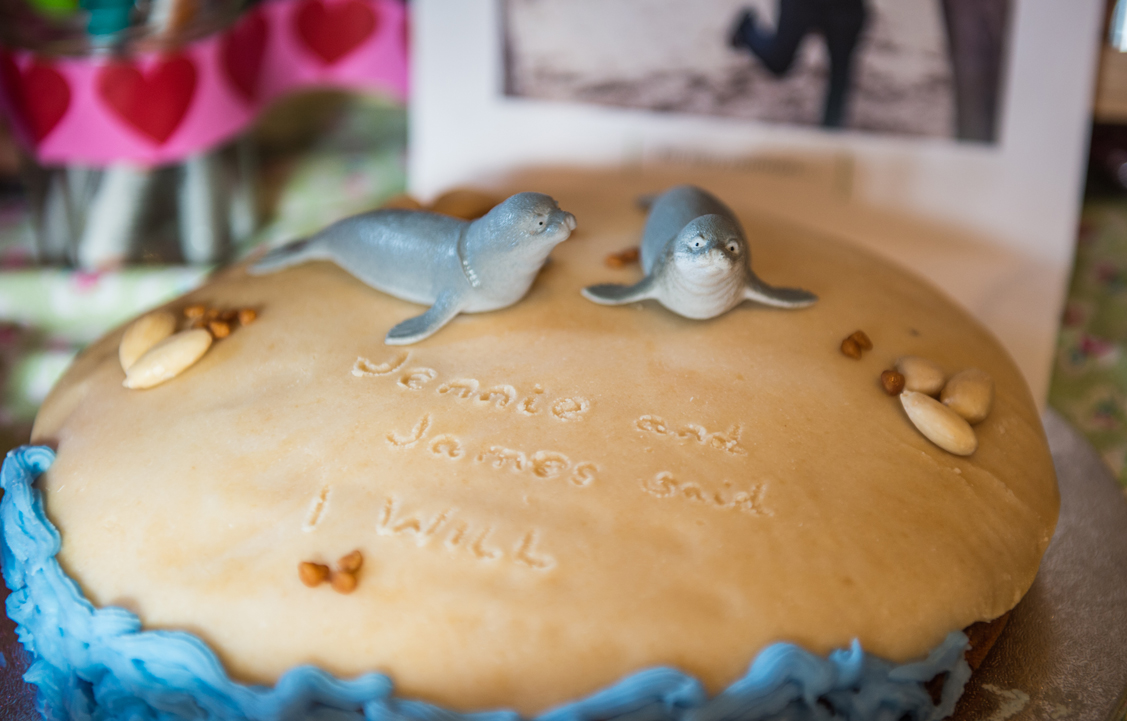 As you can see it has two baby seals on a beach, which left people puzzled. Why the seals?
"James proposed back in December 2014" explains Jennie. "We were on Horsey Beach in Norfolk."
Horsey Beach is an amazing place which is annually witness to an extraordinary natural phenomenon. It started happening in 2001, and no-one knows why. At this particular point of the year hundreds and hundreds of baby seals are born and come up onto the beach.
"We were there surrounded by lots of gorgeous baby seals when James got down on one knee and proposed to me. My grandmother's cake was such a lovely tribute to this moment. In edible form!"
The Church in Arlesey, Bedfordshire was very pretty as you can see in the pictures, and the guests all looked great.
"…Lots of dots and spots. Some delightful outfits" says Jo. "it was a really good atmosphere, really warm and welcoming, and there were some very moving moments."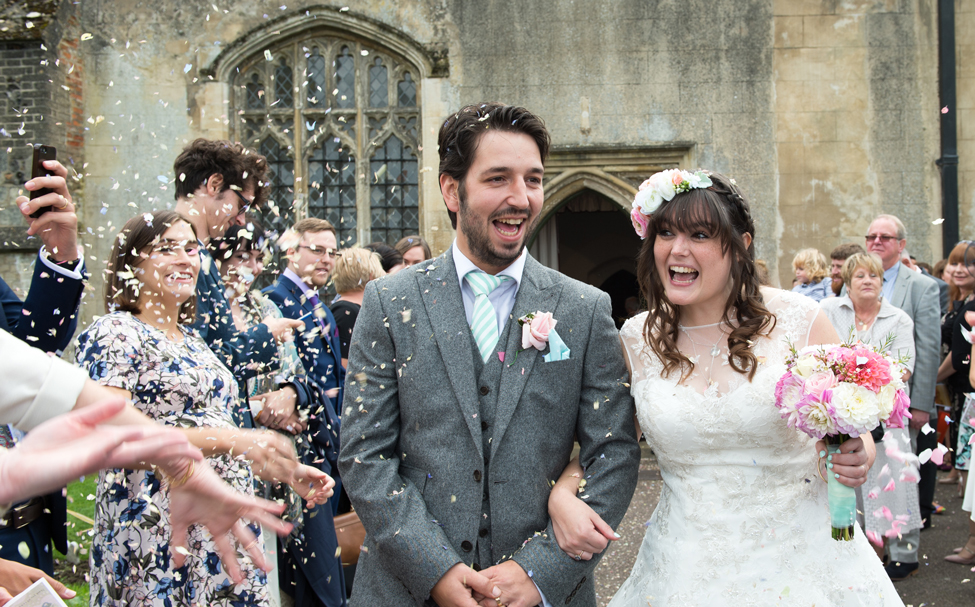 James & Jennie were trilled with Striking Places and the end results.
"They were both absolutely lovely and it felt like they were guests." confirms Jennie, "I really don't like having my photo taken on the whole but I felt so much more relaxed with them there. I was dreading that aspect, but it was actually amazing. The photographs were fantastic. I cannot recommend them highly enough".