London-based Hammond Organ Trio through Striking Places' Lens
Google accredited photographers Striking Places music performance photography of the London-based Hammond Organ Trio, MOJO'd.
It was a sunny Sunday afternoon when we at Striking Places found ourselves on a shoot in a lovely little local pub, The Harringay Arms, in the heart of Crouch End. We were there to take a collection of stills of the fabulous Hammond organ trio MOJO'd. "Sexy music for sexy people" announced the posters as we entered.
MOJO'd are a Blues, Soul, Funk & Jazz trio, influenced, in their own words, "by the sounds of Jimmy Smith, Booker T, George Benson among others". They are comprised of three exceptional professional musicians, Mick Parker on drums, Joe Bickerstaff on Hammond/Keys and Daniel Linhart on guitar.
But how did this all come to be? Joe Bickerstaff, MOJO'd band leader and Hammond organ player takes up the story.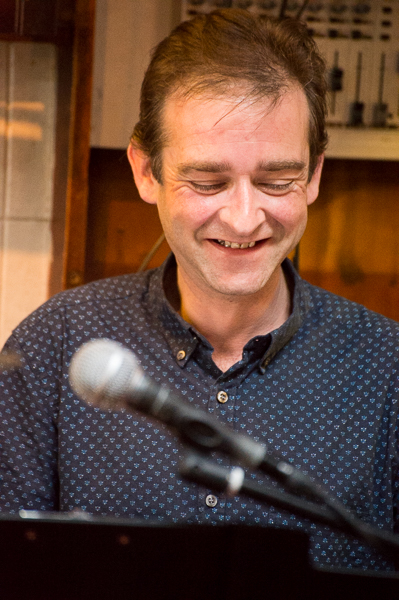 "I first met Jo Hailey of Striking Places when she came along to the Sunday afternoon jazz jam downstairs at the Kings Head a few years ago,"
Striking Places really enjoy music performance photography, and were there to shoot a mutual friend's band, The Pie Trio.
"She took lots of pictures of other musicians too, including me," Joe continues. "Like many people I am not ever very keen on photographs of myself,".
When he saw the finished product the following week he was really impressed by how Jo had captured the afternoon, "and I even felt happy about the ones of me!" he laughs.
Joe asked if he could use the Striking Places photographs for his publicity shots, and we were more than happy to agree. Our working relationship began.
Skip forward a few years and Joe's new band, MOJO'd were due to do their first gig at The Harringay Arms.
"We wanted to capture some sounds and visuals to market the band," Joe explains. " Striking Places were the obvious choice. We decided to go for stills instead of a video, partly because of the space." The Harringay is a small local music venue and it is not always easy to film a band in that kind of space with any finesse and impact.
"I've seen too many crap videos filmed in smaller venues", agrees Joe. "We decided some really top quality stills would be much more effective to accompany the sound. You can sometimes capture action in stills in a way that you cannot with video,"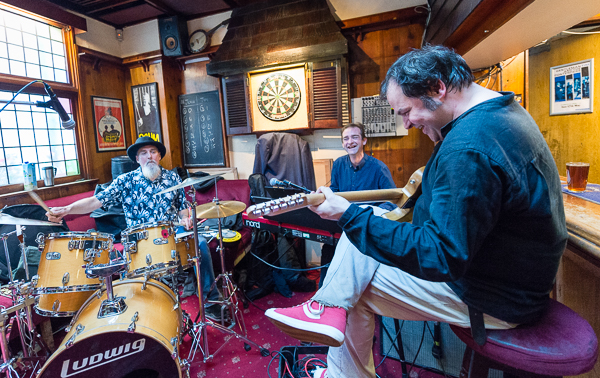 There are many factors to consider when photographing a band. The most obvious is that people don't always feel comfortable having their picture taken. You do not want to intimidate or put off the musicians. Equally the audience can become self-conscious, and it's important not to interrupt their enjoyment of the performers.
Joe says that what was fantastic about Jo was that "she just got on with it in a way that was non-intrusive and conducive, particularly given the confines of the space. I wasn't even aware she was there, which is what you want from a photographer when you are playing"
He was also very impressed that the turn-round time was so quick, and there was such a high quality of statics to choose from.
So would Joe recommend Striking Places and use us in the future?
"I have worked with a lot of photographers in the past and often you find there's not a lot of imagination going on. Jo worked within the confinements of the space, considered the audience and worked really well with the restrictions. I would highly recommend Striking Places, and am sure the opportunity to work with them again will arise in the near future." Joe confirms.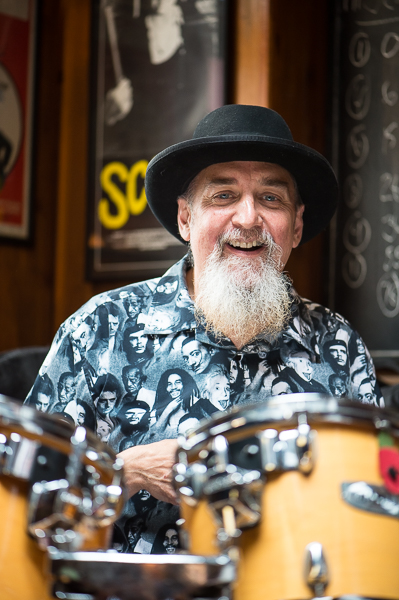 It was a lovely afternoon. The band have such a great sound and Striking Places loved every minute of it. They were also joined on stage by a special guest, percussionist Danny Bryan, which was fantastic. We look forward to attending another MOJO'd gig in the very near future.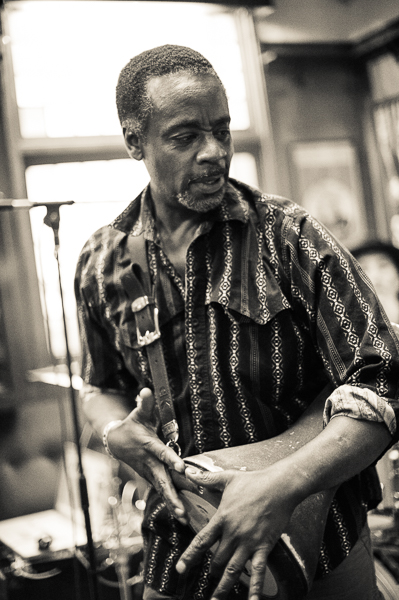 Joe Bickerstaff has recently toured in Monaco, Monte Carlo and is now back in the UK playing with various jazz and funk combos as well as MOJO'd. The percussive brilliance that is Mick Parker plays regularly with The Balloon Dogs, The Kids on the Mountain, The Customtones and Dr K's Blues Band as well as being off to Holland on tour in a few months with British Pop Invasion. Daniel Linhart can be heard weaving his guitary magic at many local blues jams and collaborating with musician and producer Danno Sheehan and his band the W3 Detour.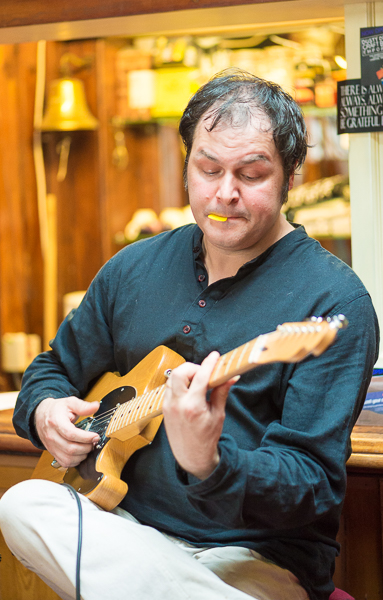 Check out some more of Striking Places performance photography .
The Harringay Arms has recently changed management, and after a partial refurbishment, new manager Misha Adams has revived live music on Saturday and Sunday afternoons. To find out more about up and coming gigs and more you can visit their Facebook page.

Blog, Event, News Post, Photography

Award-winning Photographers, Crouch End, Daniel Linhart, downstairs at the kings head, Event Photography, Google Trusted Photographer, Hammond Organ Trio, jazz jam, Joe Bickerstaff, London, Mick Parker, MOJO'd, Music photography, Performance photography, The Harringay, The Harringay Arms, The Kings Head