Using your Matterport virtual tour
Congratulations! You're probably here because you have your very own 3D Matterport virtual tour. So, now might be a great time to find out more about using your Matterport virtual tour, or as Matterport like to refer to it, your 'digital twin'.
If Striking Places Photography created your 3D virtual tour, you will already have received an email with a URL aka website link, an iframe (there's more about his further down this news post), a link to your photo gallery (if you requested one), and a WeTransfer delivery of your taster videos and gif.
I'm going to cover a variety of topics in this blog. I'll list and link the main points here for your convenience.
Your Matterport virtual tour URL
Using your Matterport virtual tour on social media
Interactive hotspots or Mattertags
Get FREE hosting for one Matterport virtual tour
Reasons for having a virtual tour
Whatever your reason for having a virtual tour, whether it's one of the following reasons below, or there are other reasons out there (and I'd love to know them), it's vital that once you have invested in your virtual tour that you use it to it's fullest capability. This is a powerful online tool that is a brilliant asset in your digital marketing armoury.
So maybe you're:
Selling or letting a property
Renovating your business
Renovated property ready for sale or rent
Showcasing your holiday let
Demonstrating a showroom
Inviting overseas visitors into your property virtually
Whatever the reason let's make sure you know what you've got and how to use it!
New technology
Whether you're up to speed with this new technology or so new to it you're wondering what do I do now, I hope you'll find some helpful hints and tips in the following paragraphs.
I'll run through the assets you've received and talk about how you can use the different elements to interact with your online audience. I'll also go through the SEO benefits and some of the soft benefits of having a 3D virtual tour.
URL
Mainly, you access your 3D virtual tour using the URL. This link takes you to the virtual tour which is hosted on the Matterport servers. Here's a screenshot example of how a Matterport 3D virtual tour link looks:

You can share your 3D virtual tour URL on a variety of social media platforms and in other digital communications such as emails and messenger apps.
When you share your Matterport virtual tour link on social media, by creating a post, you see a tempting, clickable preview that encourages people to explore your digital space.
Facebook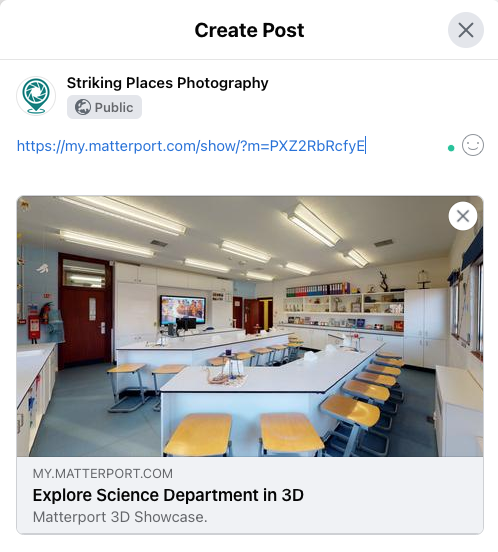 Here you can see what happens when you paste the link into a Facebook post.
This is very handy as you can see what people are going to see and then write something in the post that matches what they're experiencing.
It's been reported that for optimum visibility, i.e. not being hidden behind the '…see more' link, you should use between 25 and 55 characters.
This way people read your whole message which, in theory, increased engagement on your post.
Twitter
Twitter has the same preview facility as Facebook as you can see from the screenshot.
Both screenshots invite the viewer to explore [insert the name of your 3D virtual tour].
Tweets can be up to 280 characters long, by the way.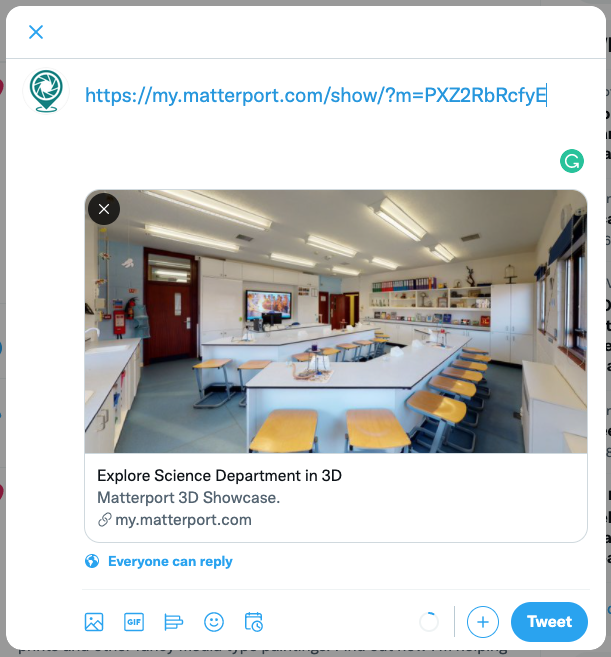 LinkedIn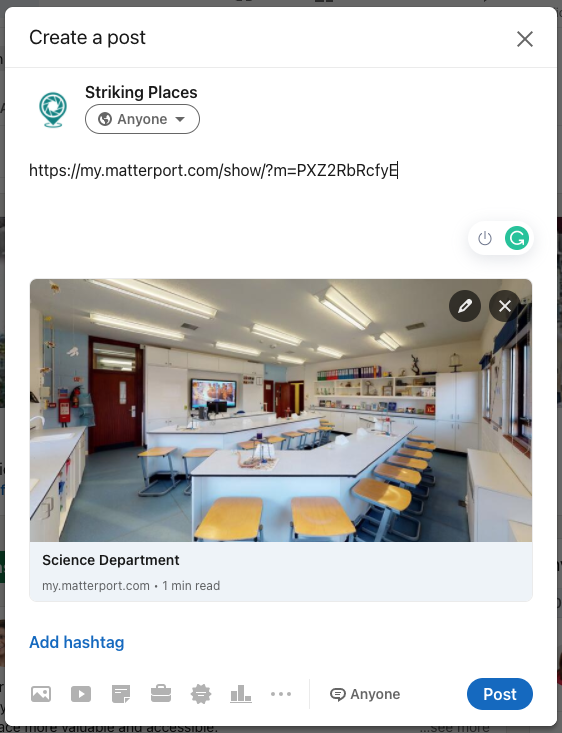 LinkedIn is very similar too, to Facebook and Twitter. With the added reminder to include hashtags in your text.
Hashtags are clickable links that, when clicked, display all posts with that #Hashtag.
A tip about hashtags to make them more accessible is to create them with capitalised first letters so the individual words stand out more. For example, #UseCapitalLetters
Instagram
As you probably already know URLs don't work in Instagram posts. My kids are always telling me how embarrassing I am when I have links in my posts. What're you going to do?! I use Hootsuite to schedule and post to all platforms at once!
So while your Matterport virtual tour link won't work on Instagram, the taster videos that come with your virtual tour will!
Below you can see an Instagram post with a taster video for a residential property for sale in St Albans for Aubrey & Finn Estate Agents.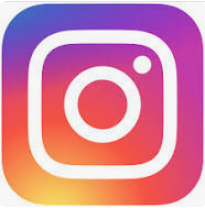 View this post on Instagram
Embedding an iframe
Of course, you will want to display your 3D virtual tour on your website. You want to invite people browsing the internet or visiting your website inside your virtual business.
You will have been provided with an iframe. This is a little bit of code that is used to pull the virtual tour from the Matterport servers and display it on your website. Like this:
You can change the size of the iframe so it fits well in the space you have designed for it.
Taster videos and GIFs
If you already have your virtual tour, you will have received your taster videos and associated GIF via WeTransfer. This is a great platform that allows you to send very large files that can be added to your Dropbox or downloaded directly to your computer or device. These videos and the gif are automatically generated when the virtual tour is created. Unfortunately, as they are automatically generated, I have no control over where they start or finish or what areas of the property they include. I hope yours look great!
Taster videos
Included in the Matterport 3D virtual tour package are two taster videos. There's a long version and a short version. Typically, they are respectively, about 12 seconds and 7 seconds long. The videos start inside the virtual tour, then fly out to the dollhouse view and back into the virtual tour again, like this:
Another taster video example
Below is another example of a taster video. This time from Lydia Bauman's exhibition, Earthworks, when it was on display at The Mall Galleries in 2021. You can also visit the virtual gallery.
Taster videos in social media
Again, great for sharing on social media these videos are snappy and short enough to get people to see the whole video where they can also see the whole of your building or business. And, don't forget to upload the videos to your YouTube channel if you have one. YouTube is the best way to embed the videos in your website, just as I have here.
Animated GIF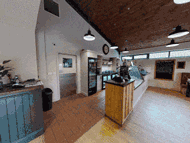 An animated GIF is also included in the Matterport virtual tour package. This GIF format is like a video but generally keeps repeating.
GIFs are really cool for use in the signature footer of your emails. They're eye-catching and show or remind people where you are and what you have to offer.
Increase website traffic
You may be wondering how your website traffic will increase simply by sharing a URL to another website on social media. After all, the link goes straight to the Matterport server and not your website.
This is why, as part of our Matterport 3D virtual tour package, we always include an interactive hotspot.
Hotspots or Mattertags
Hotspots, as I like to call them, or, more accurately, Mattertags, are visible, clickable, interactive, coloured circles that can be placed in the 3D virtual tours. Below you can see lots of hotspots in various colours in Lydia Bauman's virtual tour dollhouse view.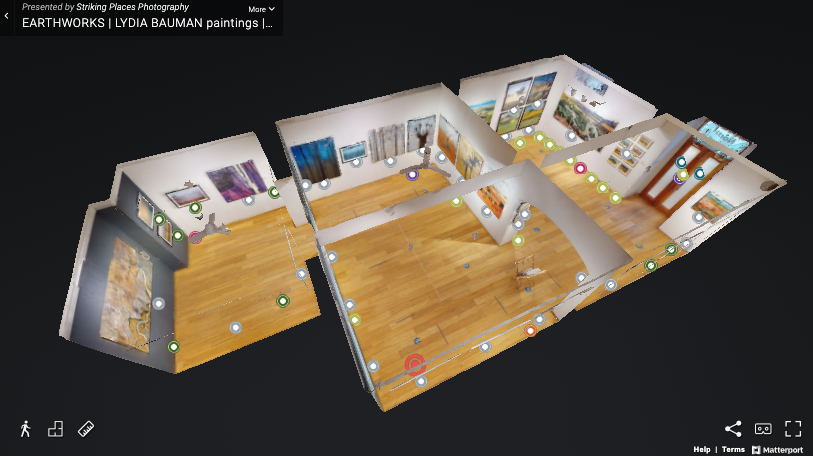 These interactive hotspots can contain text, photos/graphics, videos and links. Lydia has used them to provide information about each painting, where they can be bought and how much they are. All the media content must already be available on the internet to work in the hotspots. Here are examples of what they look like.
Text hotspots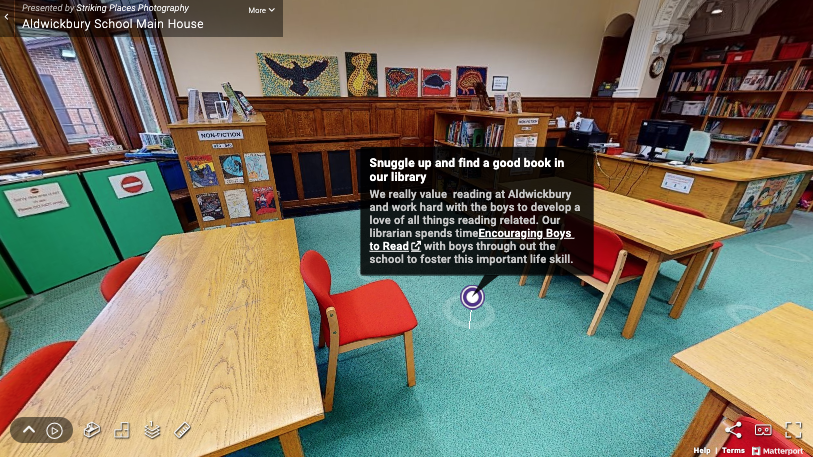 Here you can see an example of a text hotspot with URLs or website links on certain words. These links then take the viewer out to a website with further information, like 'Encouraging boys to read' does in this screenshot of the library in the Main House at Aldwickbury School, in Harpenden.
Photo or graphic hotspots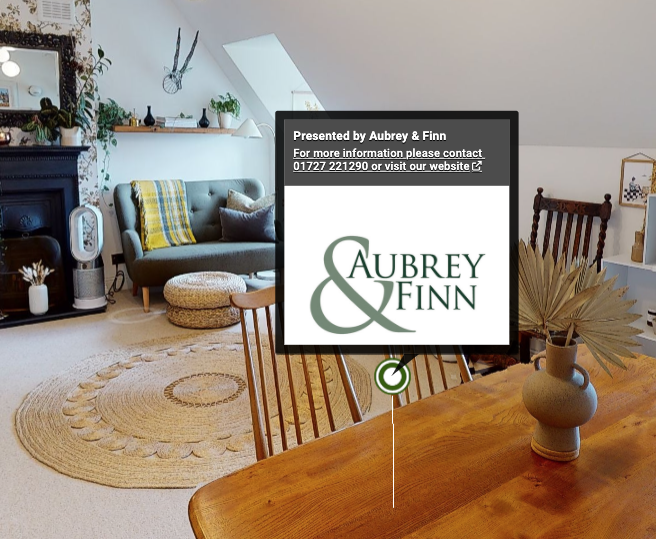 Photos and graphics can be displayed in the hotspots. Photos are great for bringing a space to life with examples of what might happen in that room. While graphics can be your logo which is a great reminder of your brand.
The title can tell the viewer where they are and a link can take them off to your website for more information.
Video hotspots
Below you can see the 3D virtual tour for EYES on St Albans while exploring you'll see they have video hotspots. If you take the link to the EYES on St Albans website you'll see he has his virtual tour at the bottom of the first page. You can interact with the hotspots and find out more about the kind of business it is and the type of products that are sold there. Great eyewear btw!!
See if you can navigate around and find a video of yours truly talking about Google Street View inside. It was very kind of Jez to let me have an interactive hotspot of my own in his virtual tour! #Hint My hotspot is a different colour.
SEO
While you're browsing the virtual tour a couple of magical SEO (Search Engine Optimisation) things are happening. People stay longer on the website; which Google loves. The more Google loves your website the more it shows it to people as your website is clearly popular and delivering what people want. Another win, win!
Click more
You can also encourage people to click more by including internal website links to points of interest. Google loves this too as it shows you've thought about your user experience or UX. Google loves it when you deliver a great website with helpful content for people who are interested in your goods and services. Some clients with retail shops use the hotspots to take people to their online store.
Embedded showreel
Another helpful feature of Matterport 3D virtual tours is the pay button embedded video tour. I create this feature once the virtual tour is published using the tools in the back end of the Matterport website.
This means that the embedded video tour is customisable and can travel through all the areas of the property and highlight key features.
This play button feature is also great for people who don't like to navigate manually through the 3D space.
Video conversion
The embedded showreel can also be converted into video and topped, tailed and interspersed with more information, thereby providing even more content. Here's an example from a property for sale by Squire Estates.
If you haven't got an embedded video showreel but would like one now you know more please contact me to find out more.
You may also be marvelling at the moving logo at the beginning of the video above. This is called an ident. It makes your logo stand out and can be used in videos and on social media. We create idents too, so get in touch if you'd like to find out more. Here is a selection of our favourites. We're pretty proud of the sound fx too so turn up your sound!
Photo gallery
As a photographer, you won't be surprised to know that one of the services I offer is photography. While I do have a pro camera and use it for headshots and other commercial photographic work, if you've had a Matterport virtual tour I'll be able to snapshot high-resolution photos from the tour. I then process the photos using Adobe Lightroom and Photoshop, where necessary, and post them to your own, very easy to use gallery.
Below are some examples of the photos, from the Matterport system, that appear in the gallery.
Soft benefits of virtual tours
Google Street View inside
Virtual tours have been around for quite a few years now. The most widely used virtual tour is Google Street View. You may or may not know that Google Street View inside is a thing too. Here at Striking Places Photography, we started publishing Google Street View inside back in 2012.
Independent study
Of course as with all Google projects they like to assess the success of the program. In doing so they commissioned an independent study by Ipsos which impressively reports that Google My Business listings with virtual tours are twice as likely to attract interest. You can read more about it and see the study in the Enhance your Google listing area.
The same benefits apply to 3D virtual tours. Once someone has experienced the virtual tour of your business they remember it. When your ideal customer experiences your virtual business they're twice as likely to want the real-life experience and therefore contact you or actually appear in person. Win, win!
FREE hosting for one Matterport model
Annual subscription
Like most online services these days, Matterport charges a monthly or annual subscription. This fee is quite costly and as it's part of the business we have to pass this on to our clients.
At Striking Places we like to keep this as close to cost as possible, we're not in the business of making money on top of another service.
Every penny counts
However, we do understand that, especially these days, every penny counts. So the good news is, if you have only one virtual tour there is a way to get free hosting. You simply set up your own free Matteport account.
Free Matterport account
To set up your free Matterport account visit this website, enter your details and confirm your account. Then, email us and let us know the email address you have used to set up the free account.
Admin fee
We will arrange to transfer your model to your free account. There is an admin charge of £25.00 + VAT for this service.
Of course, you don't have to move your 3D model from Striking Places. We're happy for you to stay with us. We're also happy for you to ask any questions you may have about your virtual tour while it is hosted in our account.
Stay in touch
We hope you're enjoying your 3D virtual tour and have found this guide useful. However, if you have any questions please feel free to book a 15-minute discovery slot with Jo. I'd be delighted to provide you with your latest analytic, discuss your virtual tour and talk about ideas to increase your stats.