Striking Places Summer Part Two – The BBC Interview at Westminster Abbey
You may recall in Striking Places Summer Part One we were four hours from Calais in a beautiful campsite in the middle of a forest when we got the call. Did Striking Places Jo Hailey wanted to be interviewed for the BBC London News outside Westminster Abbey the following afternoon? Yes!! You left us stuck in a huge lorry traffic jam in the rolling hills of the French countryside with 18 hours to get to Westminster Abbey. Nail-biting stuff!
After nearly 6 hours driving we finally made it to a campsite in Ambleteuse just near the Eurotunnel. The sun was going down and we were hungry and exhausted. France and Germany were playing in the Euro 2016 semi-final, so the locals were understandably distracted.  However, we managed to persuade a fantastic local restaurant, Le Fort des Caps, to serve just two more suppers. And thankfully France won! Then we collapsed into sleep in the Striking Places mobile office. 
At four the next morning we started our journey homewards. Jo just about had time to go home, change and race to Westminster Abbey. She met Alice Bhandakravi and Nick, the cameraman, in the Deans Yard. They decided to find a good spot to interview with Westminster Abbey as a backdrop. Alice asked if Jo had ever been interviewed for television before. Jo nervously replied that she hadn't. Being the professionals they are, Alice and Nick wasted no time putting her at ease. You can see how relaxed and jolly they all were in the selfie below.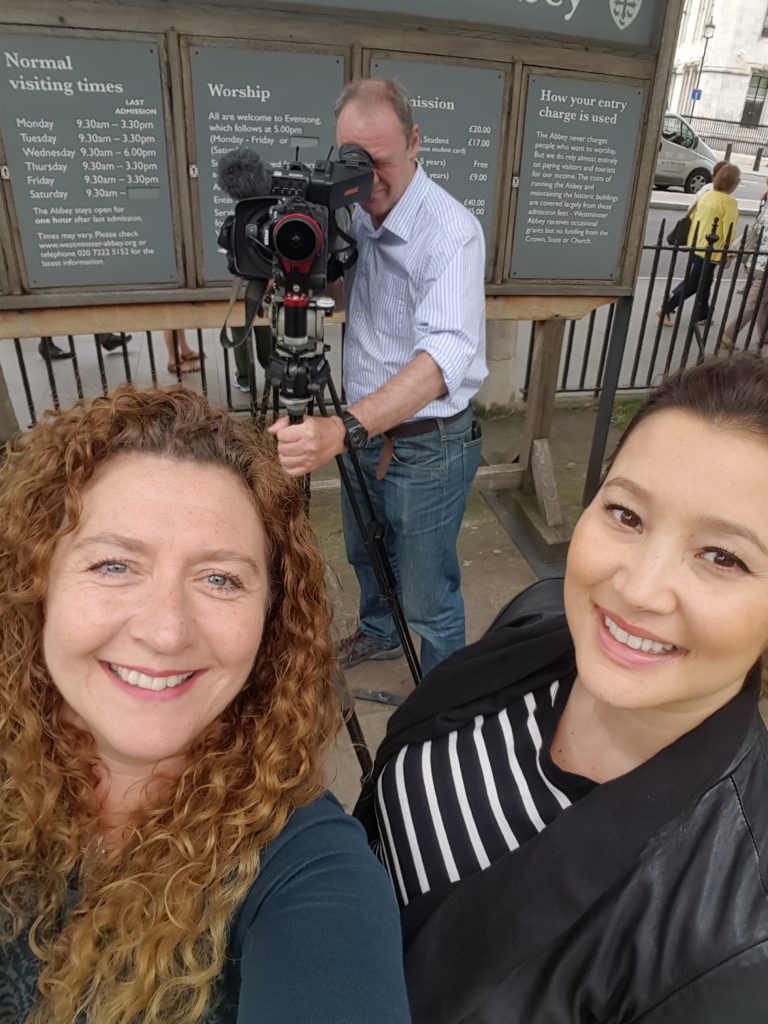 Everyone agreed it would be a good idea to have the 360 camera and tripod used to shoot the virtual tours visible in the interview. Jo decided it would be a nice touch to do a quick interactive photosphere there and then, which you can see here.
Once they had finished shooting the interview it was time for the editing process to begin. The BBC team have a van in which they do this, which as chance would have it was exactly like the Striking Places mobile office, a Mercedes Vito.  So whilst Jo processed the 360 photosphere in our mobile office they edited the news piece in theirs, identical vans side by side. Once finished, Jo joined them in their mobile editing suite.
It was really interesting to watch the process. Alice used a special device called a lip microphone to record the commentary over the interview and footage. Despite security attempting to move them on a couple of times they managed to finish the editing. Then they invited Westminster Abbey's Head of Education Grazyna Richmond to preview the piece. Some other members of the education and marketing teams came too. It was very exciting. Everyone involved was really happy with the finished product. Jo thoroughly enjoyed the whole experience, especially working with such a lovely team.
Before everyone departed Alice and Nick assured Jo they would specially arrange for her to get the news package. This is a clip of the news piece that Striking Places can use on our website and post on social media. And here it is! We hope you enjoy the finished product as much as we do.
The piece was due to air that evening. The Striking Places Social Media team set about tweeting and posting on Facebook. We wanted to let everyone know what time they could see Jo on the BBC News, talking about the Google Street View Trusted tour of Westminster Abbey. As it happened an exciting day at Wimbledon meant everything was later than scheduled. 
Finally at 7.30 pm on the 9th July 2016 it aired. Jo's Facebook exploded with activity! We didn't realise at the time but it was not just on BBC London News but also BBC Regional News. People – as far as Scotland and Stockton, Devon and Cornwall – were posting hastily snapped pictures of Jo on the television with lots of lovely comments. Jo became a bit of a celebrity at her local pub and for the next few weeks at regional networking events people kept saying they recognised her. Jo isn't keen on seeing herself on TV but the rest of the Striking Places team are extremely proud of her. Well done Jo! What a fantastic summer!