Fiona Rae Stable Yard 360 Google Virtual Tour
Striking Places have been delighted to work with Hatfield House in bringing Google Street View to many areas of the estate, both inside and out. This project has taken place over several months and has seen the Google Accredited photographers exploring many areas of the complex, from fountain low to steeple high.
The Stable Yard
The Stable Yard is a pretty area built in 1915 for horses, donkeys and the workshops/storage areas for all that accompanies them, as well as newly acquired motor cars. In 2010 it was developed into the area where shops and workshops within Hatfield House sit. The shopping area boasts an array of unique establishments and cafes for visitors to relax in.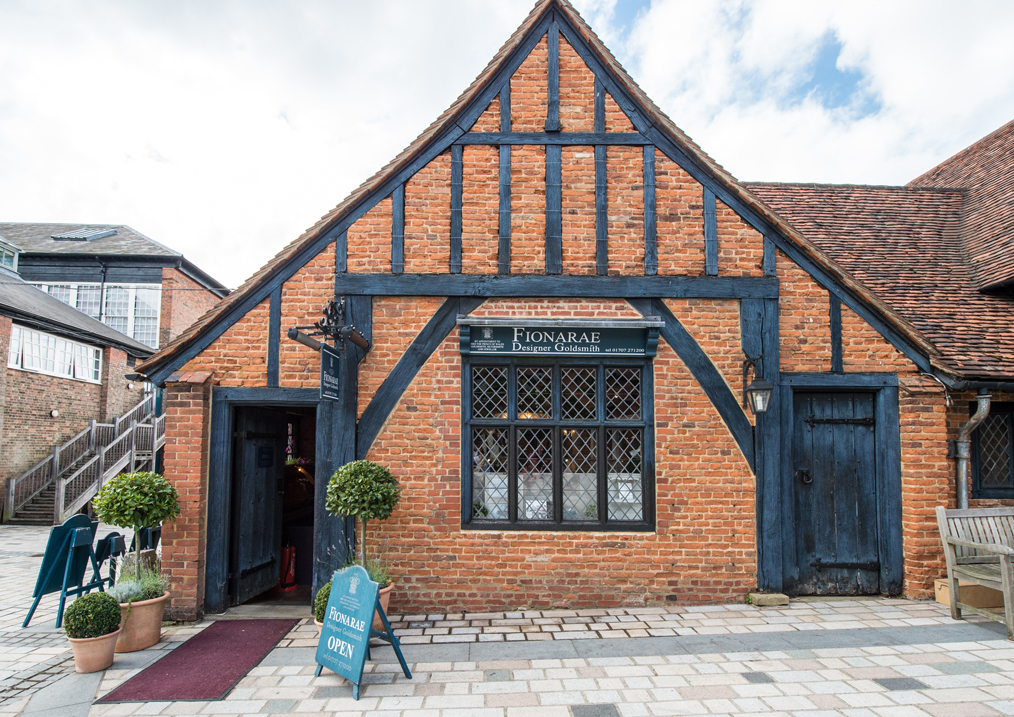 Fiona Rae is a goldsmith and enameler who has been designing and making bespoke jewellery for over 25 years. She is a member of the British Society of Enamelers and has been supplying HRH Prince of Wales since 1994. Subsequently she was awarded a Royal Warrant in 2001 and in 2013 Fiona was invited to exhibit at Buckingham Palace Coronation Festival. Her jewellery reflects the high quality of her craftsmanship and love of fine design and colour.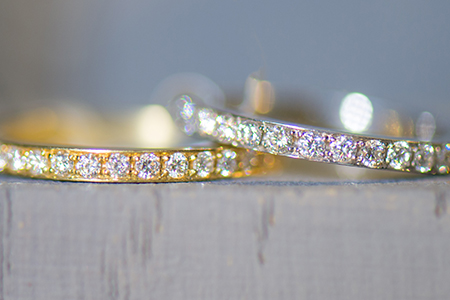 Her shop sits cosily in the Stable Yard at Hatfield House. On entering the delightful self-contained mock tudor building you see how beautifully the space has been used. The display cabinets that line the walls are gorgeous, with veneer curves and circular openings displaying the fine jewellery. Other free-standing cases hold more pieces. Large photos on the walls showcase some stunning rings and necklaces. Also mounted on one of the walls is a television showing fascinating footage of Fiona Rae at work.
Through the door at the back you enter the magical world of Fiona Rae's jewellery workshop. Glass fronted cabinets show jars holding raw materials from which the high quality jewellery is made. A design table and threads hint at the skilled craftsmanship that goes on in the area. The divide between the workshop and the shop itself is glass. This gives it ample daylight and also provides customers with a window into how the jewellery is made.
The overall impression from following the tour is of a cosy unique independent business run by an incredibly skilled and talented goldsmith and enameler producing stunning jewellery.

News Post

360 Virtual tour, 3D Virtual Tour, Fiona Rae, Fiona Rae Designer Goldsmith, Google Street View Trusted, Hatfield, Hatfield House, Interactive Virtual Tour, see inside, Stable Yard, Stable Yard at Hatfield House, Street View inside, Street View Trusted, The Stable Yard, Virtual 360, Virtual Tour